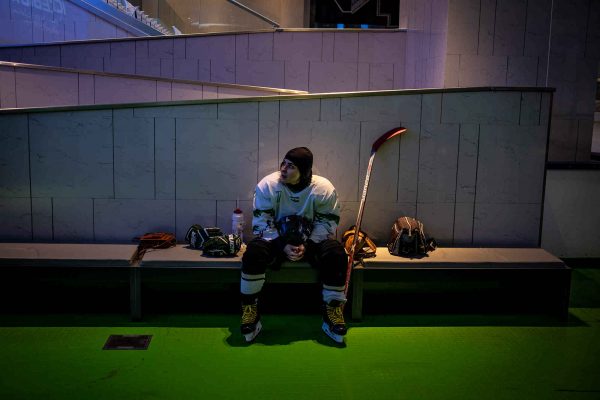 When Tehran-based photographer Mohammad Ali Najib met dual-sport professional athlete Maral Rasekhi at Tehran's Iran Mall Ice Rink for a photoshoot, he was impressed by her extraordinary strength of character. "You see firm determination and willpower in her face," he says, describing the characteristics of the 34-years-old athlete who was dubbed "scoring girl" in 2006 international club hockey games in Hong Kong.
In the competition, in the absence of an Iranian team, Maral played for a Hong Kongese club, winning a gold medal. She has accompanied Iran's first women's inline hockey team in other international competitions. She has also won two back-to-back bronze medals in Asian Roller Skating Championship, in in Lishui, China in 2016 and in Namwon, South Korea 2018. She has said that she knows no limits when it comes to sport activities and she believes women are smarter and better team players than men.‌
وقتی محمد علی نجیب، عکاس ساکن تهران، برای عکاسی از تیم ملی هاکی زنان ایران در سالن اسکیت ایران مال تهران حاضر شد، شخصیت مارال راسخی عضو تیم ملی اینلاین هاکی و عضو سابق تیم ملی اسکیت سرعت ایران را قدرتمند و تاثیرگذار یافت. او میگوید: «عزم و اراده را میشود در صورت او دید.» این توصیفی از قهرمان زن 34 ساله‌ای است که در مسابقات هاکی اسکیت زنان در سال 2006 «دختر گل مسابقات» لقب گرفت. در این رقابتها، او در غیاب تیم ایران برای باشگاهی از هنگ کنگ مسابقه داد و موفق به کسب مدال طلای تیمی شد. او در مسابقات بین‌المللی دیگر، اولین تیم اینلاین هاکی زنان ایران را همراهی کرده است. مارال راسخی در مسابقات قهرمانی رولر اسکیت آسیایی دو مدال برنز پیاپی در چین در سال 2016 و کره جنوبی در سال 2018 کسب کرده است. او گفته که در فعالیتهای ورزشی خود حد و مرز نمیشناسد و اعتقاد دارد که زنان بازیکنان باهوش‌تری از مردان هستند و در کار تیمی از مردان بهتر عمل میکنند.