Our Hostel in Tehran
We Are
See You in Iran Hostel in Tehran is an interactive space for cultural encounter providing low-budget accommodation and featuring an event-based café.
The first building consists of five private rooms, two dorm rooms, a large roof, a café, a souvenir shop,
a communal kitchen, an IndiCraft shop, an exhibition wall and an outdoor garden. The second building features three quiet private rooms, two balconies, a common area, and a communal kitchen. Both buildings feature shared bathrooms and a variety of additional amenities. (See below.)
See You For
A New Experience
Just since Dec 2016 till Aug 2019
And more reservations for coming months
See You in Iran Hostel, which was rated by Lonely Planet as a "Top Choice Hostel" and one of the "Best Places to Sleep" in Tehran, transcends the limitations of virtual connections by transforming them into face-to-face interactions inside Iran. The hostel's work in utilizing a physical space in shaping social life has made it the accommodation for cultural encounter in Iran.
A View of the Top Choice Hostel
in Tehran by Lonely Planet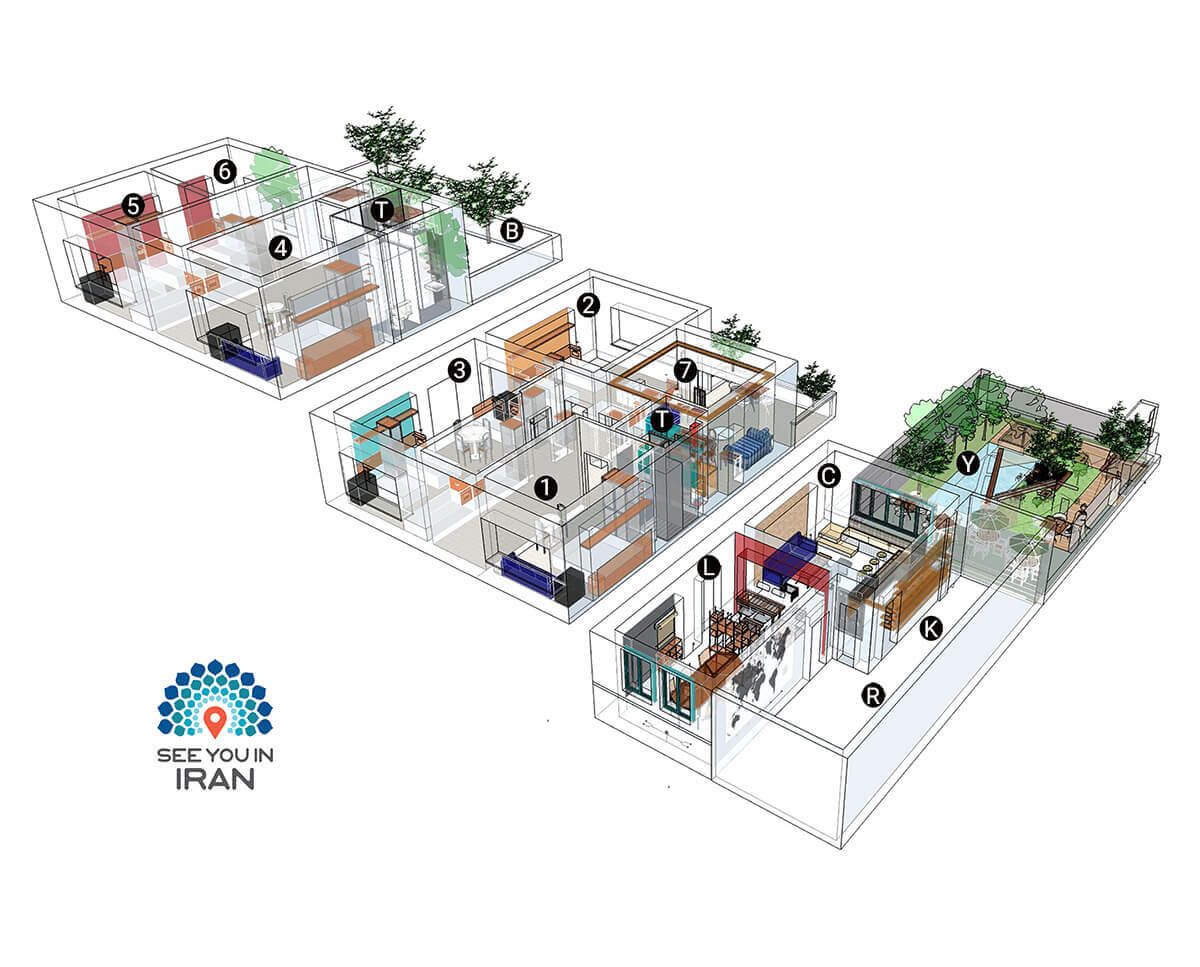 Come and go whenever you want! We have 24/7 on-site staff that will open the door for you at any time.
Our hostel is located in the pulsing heart of Tehran's artistic center. It not only neighbors the Iranian Artists' Forum, various cafes and a burgeoning community of galleries, but it's also ten minutes walking distance from a major transportation hub and two metro stops.
Guests can comfortably explore Tehran without any extra weight or worrying about precious items. Each guest has an individual locker for storing personal valuables and we have a storage space by the reception desk.
Our hostel has three high-speed wifi networks for guests to use anytime and anywhere in our three-floor hostel.
Our hostel is the accommodation for cultural encounter. Everything from our weekly cultural events to our multilingual staff exemplify our commitment to creating interactive spaces through which travelers can connect with locals.
We understand how tiring international traveling can be. As a result, we launched around the clock transportation services to and from the Imam Khomeini International Airport for hostel guests.
Our café is open from 8 am until 12 am every day. There guests can lounge and enjoy a variety of coffees, traditional Iranian beverages and fresh, travel-friendly sandwiches. They can also use our well-equipped
Breakfast Included & Other Amenities
In addition to breakfast being included, we also offer a complimentary tea or coffee in the morning, free towels, free laundry, a blow dryer and storage space.
Our outdoor garden has berry, fig and pomegranate trees and a variety of places to relax and hangout in including a bamboo cabana, a wall bar with stools and a swing.
See You in Iran recently launched a services package for hostel guests which includes a debit card, a metro card, a sim card and a services maps of the neighborhoods surrounding the hostel.
Our renovated 70-year-old building retains the charm of older Iranian architecture while have new beds and mattresses in all of its seven bedrooms.
We also have new, communal bathrooms with showers on floors two and three and Western toilets on each floor that are cleaned three times a day.
See You in Iran Hostel is in the Iranshahr neighborhood at the heart of Tehran's pulsing artistic center. The hostel's area includes the Iranian Artists' Forum, the Museum of Contemporary Art and numerous private art galleries. It neighbors political and intellectual attractions like the Former U.S. Embassy, the University of Tehran, and Enghelab Square's famous book bazaars. Located in the center of Tehran, the hostel is also 30 minutes away from most major historical sites, such as Golestan Palace, the Grand Bazaar, the National Museum of Iran, etc. Refer to our "Contact Us" page for our address and transportation information.
Kreso Kreso

Amazing

"Place is great, clean, cozy and comfortable. Staff is absolutely amazing, helpful and they'll help you with whatever need you might have. Every bed has a locker and wifi is quite fast. Coffee tastes great 🙂"
PSBraakman

The best welcome to start your trip in Iran

"Kojeen, is simple the best place I stayed during my trip in Iran! Very welcome people, kind to help get started whit my trip by arranging bus tickets. The accommodation itself was nice and clean. When you stay there definitely go for the Local breakfast because that one will kick start your day! 🙂"
npenneg

Inspiring and Beautiful Place

"Kojeen is way more than a hostel where you will rest and plan your trip ahead, it is a wonderful world inhabited by truly generous, passionate and warm-hearted people. The mix of local and travelers, the feeling of not being perceived and treated as a tourist but rather as an acquaintance staying over made me feel home and surrounded by a familiar crowd of friends to be."
Meret H

Wonderful Place

"This was the best hostel we stayed at during our trip, by far. It had really clean rooms and bathrooms, very cool and hip atmosphere, a great cafe and so many interesting people! Unfortunately, we could only stay one night since it was otherwise (understandably) fully booked. One night in the female dorm cost us €12/person. Would definitely recommend - book in advance! Or just swing by for some coffee and interesting discussions 🙂"
Alessi0 1985

Brilliant and Warm Welcome in Tehran

"The staff of this hostel is absolutely helpful, they're so kind and gentle. They always welcome you and make you feel really comfortable. The rooms are big with great common space as well. Showers are good. The breakfast is so tasty! Even when they meet you in the street they're happy to spend time with guests! They also taught me many things about Iran. I really thank everyone of you! I hope to see you again in my life!"
Amaia

An incredible experience

"SEE YOU IN IRAN is more than a hostel for travellers, is a whole integral project: hostel, meeting point cafe, culture house.The time to arrive was very flexible. There is always a nice person in the reception to welcome the new arrivals (even late at night) like the amazing Ali and Amin. Do not hesitate a minute. An incredible experience for these basque and breton girls. A window open to understand Iran and meet interesting, young and engaged people living in Tehran. A place full of live!!"
Bernard

Everyone was friendly

"See you in Iran is so much more than a hostel. While at first overwhelmed by the amount of people working there, you soon come to realize you jumped into a community of people that not only try to make your stay at the hostel your best stay, but for everyone that comes to Iran, in or outside the hostel and Tehran. Everyone was friendly and interested and you are able to have a good laugh with the young and energetic people that work here! Lot of other travellers too and good breakfast."
Nicola

Staff are helpful and friendly

"Good, friendly base in Tehran
Arriving in Iran for the first time is a bit of an unknown for many travellers so having See You In Iran as a first stop is reassuring. Staff are helpful and friendly, the hostel is clean and tidy and prices are reasonable for Tehran. It is in a good location, close to Taleghani metro station, walkable to many of the main attractions, and a great park just down the road. We stayed in the annexe hostel (literally 3 minutes down the road) three time during our trip. Only downside was being woken up by mosquitoes - worth buying mosquito coils in warmer months."
Frank

A warm coffee after a long journey

"this hostel is like visiting friends
In a strange 15th million inhabitant city, a strange, new environment, arriving alone, ringing shyly and then being warmly welcomed, being invited for breakfast, a warm coffee after a long journey, to feel at ease, that's easy wonderful. That's exactly what happened in this hostel, making it a great, very special location, ...
Just the place to start the tour of the country, including a small cafe in the hostel, close to a subway, restaurants and supermarkets within walking distance
On arrival and departure I visited the hostel, met the people again, with the feeling of coming back to friends. Although traveling mostly 3 months a year, I rarely had such an experience. I left the hostel with a promise to come back next year. My absolute recommendation."
Leonard

An open minded atmosphere

"Awesome time with awesome people here in See You in Iran
It's not often that you enter a place with a cosy atmosphere and people welcoming you with so much attention, and See You In Iran is definitely one of these places where you immediately feel at home. The Staff is doing an amazing job to make you trip easier, the atmosphere is really open minded and it's easy to get to talk to everyone here. The place is super clean and the fact that you can use freely the kitchen tends to make you feel even more at your place.
Finally the events organized there are a good way to talk to local people and to tourists.
If you're looking for a hostel with a perfect location, an open minded atmosphere and all you could need to have a safe trip, there you are.
I'll surely come back.
See you"
Kristine

This is a perfect way to learn more about Iran

"Best location, friendliest staff
This Hostel offers everything travellers to Tehran might look for.
It is situated perfectly in a central and cool neighbourhood of Tehran, only 10 minutes walk from the Taleghani metro station and the former US Embassy. At the same time, the neighbourhood is calm, allowing for a good night's sleep. It is also in the vicinity of Cafe Tehroon, which is a really good vegetarian restaurant.
The rooms in the hostel are clean, the shared bathrooms likewise and there is also an option for private rooms.
Originating from a facebook group fighting iraniophobia, the hostel "jewel" is a downstairs cafe with an adjoining courtyard. Cosy chairs, good coffee and cool paintings set the scene for a perfect hangout spot to relax or to fall into conversation with the young, intelligent and incredibly friendly Iranian and Afghan staff working at the hostel. This is a perfect way to learn more about Iran and talk to Iranians or other travellers about Iranian culture, travel, cuisine you name it.
The hostel is very much in demand so it is advisable to book well in advance!"
Fanny

Everything clean

"Great place, amazing people <3
Go there with an open mind, a will to speak and understand the life and expectations of people living in Iran, and you would get a great time here while taking a step far from the media cliches about Iran and Iranians. I booked 2 nights there but finally stayed for 4 nights and would go back for sure, perfect place for a first night in Tehran I would say because they will also help you very much with any troubles you could have on arrival : metro, sim card, taxi, visits, money, best food around...and many many more.
Remember that it is also a cultural center so you might be lucky enough to attend a debate/projection with really interesting people as I had on my arrival !
The place in itself is only 5 min walk from 2 metro stations (cheap and easy to use!). It is really well decorated, with a great outside for smokers, or cats lovers ^^ Everything clean and rather comfortable beds in the dormitory I had. Only, don't forget you ear plugs as people might arrived at any time of the night and well, it's an hostel so you might get some noises but hey, that's travelling right ?! 😉
Thank you all guys, see you again. All the best from France."