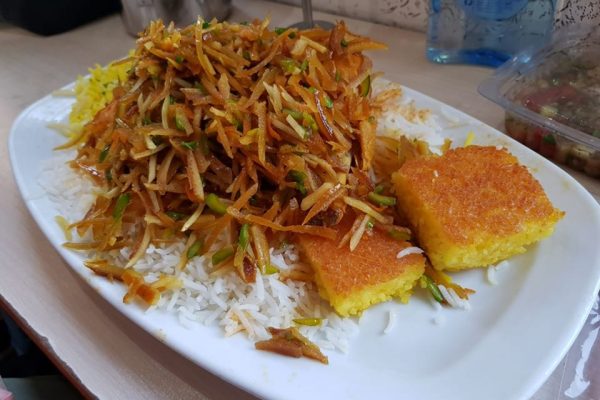 What I personally don't really like about Iran is the food. (Well now I'm just waiting for some disapproval comments here but I'm ready 😀).
It's not that the food is bad, but as Indonesian chinese myself, my preference of taste is spicy and sweet. And generally Iranian food I found is either just savoury or tangy or just really sour taste.
Talking about sour, o boy, I once ate at a buffet in Isfahan and they have a full table spread of just assorted pickles! PICKLES. From cucumber (not special) to chillies (interesting) to cauliflower (what?) to garlic (for God's sake). You have to see it to believe it. I tried all of them though. Curiousity won. But on my last day (and it happened on my birthday) I found this dish: Shirin Polo. A layer of rice topped by juicy lamb meat topped by generously cooked sweet orange peels and crushed pistachios, with tahdig as a side dish.
It was heaven. It's sweet and tangy and savoury and it was heaven. I said that repeatedly.I never find this again (iranian or middle east restaurant in my country just serves usual kebab and lamb curry) and I still think about this shirin polo from time to time.
If you ever be in Tehran, try this in Moslem Restaurant near Grand Bazaar. It's very famous restaurant.(And please, don't be angry at me regarding "I don't like Iranian food").