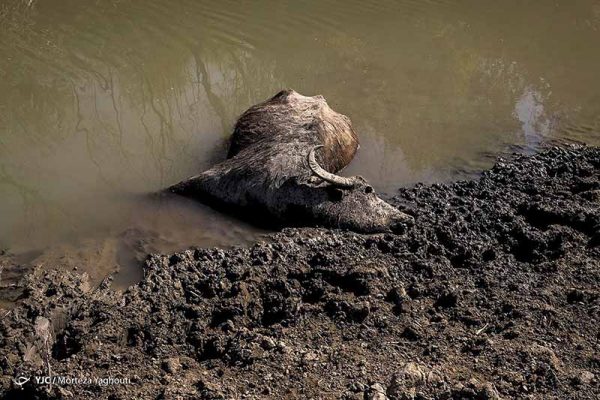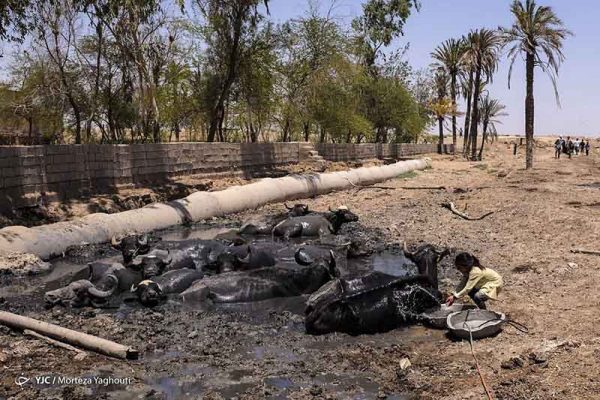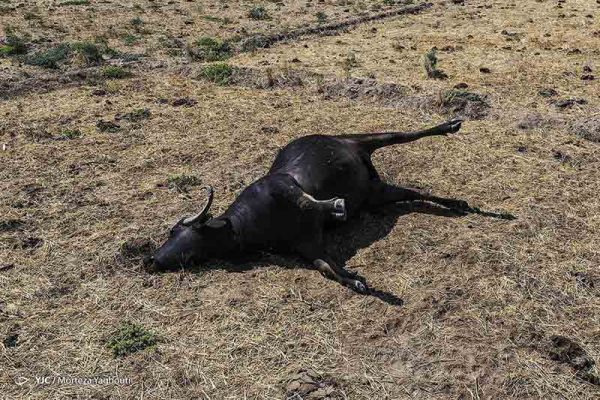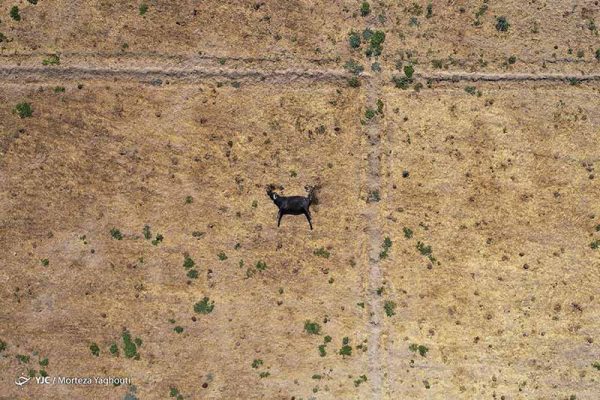 A domestic water buffalo fallen on dry ground Hawizeh Marshes in southern Khuzestan Province as intense summer heat reaches up to 50 degrees Celsius‌
—‌
A severe shortage of water is causing wetlands in Khuzestan to dry up. The shortage of drinking as well as agricultural water has been a burden for the people of the southern region, where locals live though farming and keeping livestock. Farmlands are drying and buffalos are dying amid the crisis, which locals and experts blame on transferring Khuzestan's water to other provinces. Several people have been killed so far in days-long protests against water shortage in Khuzestan.‌
در میان موج گرمایی که دمای خوزستان را تا 50 درجه سانتیگراد بالا میبرد، یک گاومیش اهلی روی زمین خشک تالاب هورالعظیم افتاده است.‌
—‌
کمبود بی‌سابقه‌ی آب باعث خشکی تالاب‌ها در استان خوزستان شده‌ است. کمبود آب آشامیدنی و کشاورزی در این استان کارد را به استخوان مردم بومی این استان رسانده است؛ مردمی که عموما از طریق کشاورزی و نگهداری دام روزگار میگذرانند. بحران آب که به عقیده کارشناسان و مردم در اثر انتقال آب رودخانه‌های خوزستان به استانهای دیگر گریبانگیر این منطقه‌ شده است، موجب کشته‌ شدن گاومیش‌ها و خشک شدن زمینهای کشاورزی و از بین رفتن سرمایه‌های مردم بومی خوزستان شده است. تا کنون چند نفر در اعتراض به بحران آب در این استان کشته شده‌اند.
‌Photos: Morteza Yaghouti / YJC