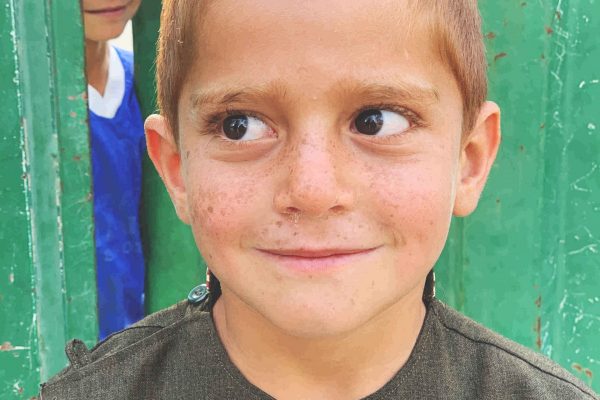 Oveis's hair matches the tangerine that will soon become ripe in the gardens of the countryside neighborhood in Alborz Province, where his father works as a caretaker of a villa.
They are one of the millions of Afghan families who settle in Iran in pursuit of peace and welfare. Though this family's small dwelling in the same neighborhood is no match for the residence of their employers.Unlike his older brother Mirveis, who stands off out of shyness; Oveis steps ahead to lock his round, glossy eyes with stranger passersby like Arad Khodabandelou, who took the portrait during a walk.
"Immigration does not mean to change places alone.
There is always a level of fear, sorrow, poverty, politics, war or other cause that forces a migrant to leave," Arad tells See You in Iran.  "But there will be something missing all the time, as moving certainly involves losing a lover, a house, a family, a friend… And one should see what is gained in return."
موهای اویس به رنگ نارنگی‌هایی است که به زودی بر درختان ییلاق‌های استان البزر خواهد رسید؛ جایی که پدرش بعنوان سرایدار یک ویلا کار میکند. آنها یکی از میلیونها خانواده‌ی افغان هستند که در رویای صلح و رفاه به ایران آمده و ساکن میشوند. اگر چه سرپناه کوچکشان در اندازه‌ی خانه‌ی کارفرمایشان نیست.
بر خلاف برادر بزرگترش میرویس، که کمروست و از دور نظاره میکند؛ اویس قدم پیش میگذارد تا چشمان درشت و درخشانش را به رهگذران ناشناسی همچون آراد خدابنده‌لو، عکاس این پرتره، بدوزد. آراد میگوید: : «مهاجرت به مفهوم جایجایی مطلق نیست! همیشه اندازه‌ای از ترس، غم، فقر، سیاست، جنگ و یا چیز دیگری مهاجر را وادار به ترک میکند.» «اما همیشه چیزی کم خواهد بود، چون انتقال و جابجایی حتمن «از دست دادن» دارد. عاشقی را، خانه ای را، خانواده ای را، دوستی را و …و باید دید چه به دست می‌آید.»