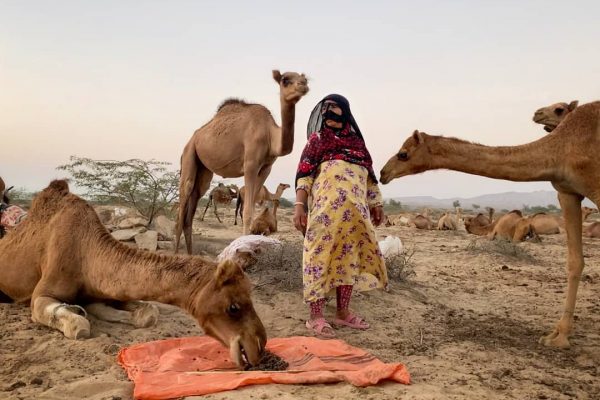 "Each village in Qeshm has a cameleer who takes the camels of the residents of the village to a grazing pasture and brings them back around sunset," says Mehdi Vatanparast, a photographer living in the southern island. "Every day, when the cameleer brings back the camels, his wife comes and helps him feed the animals. When I took the photograph, she had put some dates for the camels to eat." In a region dominated by deep-seated traditional patriarchy, this is among the limited number of jobs that require both men and women to cooperate.
Although women's share in economic activities in rural areas is still negligible; in light of social and economic changes brought by a fast-growing tourism industry, it is expected that jobs run by women will soon grow in numbers. "I've been living in Qeshm for many years," says the photographer. "People in this area are full of affection, kindness, warmheartedness and love for their families."
«هر روستای قشم یه ساروان داره که شترهای اهالی روستا رو هر روز صبح به صحرا می بره و حوالی غروب به زمینی در نزدیکی روستا برمیگردونه.» این گفته‌ی مهدی وطن‌پرست، عکاس ساکن این جزیره است. «هر روز که ساروان همراه شترهاش از صحرا بر میگرده، همسرش به کمکش میاد و در غذا دادن به شترها کمک میکنه. این لحظه‌ای که عکس رو گرفتم مقداری خرما برای شترها ریخته بود و به شوهرش که در حال هدایت شترها بود نگاه میکرد.» در منطقه‌ای که جامعه‌ی مردانه همواره چیره بوده است، این شغل در میان تعداد اندکی از فعالیت‌های اقتصادی جای میگیرد که نیازمند همکاری مردان و زنان هستند.
اگرچه سهم زنان از فعالیت اقتصادی در مناطق روستایی جنوب همچنان ناچیز است؛ با توجه به تغییرات اجتماعی بوجود آمده توسط صنعت درحال رشد گردشگری، انتظار میرود تعداد مشاغلی که توسط زنان راه‌اندازی و مدیریت میشوند بزودی افزایش پیدا کنند. عکاس میگوید: «من سالهای زیاد هست که در جزیره زندگی میکنم. مردم این منطقه پر از عشق، محبت، خونگرمی و حس خانواده‌دوستی هستند.»