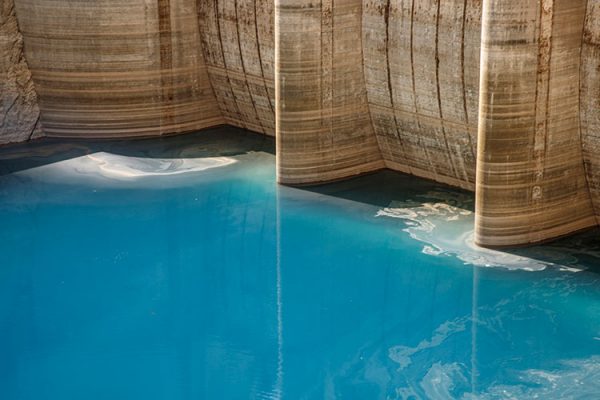 Just a few days ahead of the summer solstice, reserve level at Shahid Abaspour Dam in Khuzestan Province has dropped to an alarming level. Although many dry provinces have been struggling with water crisis for years, an exacerbating drought seems to pose a greater challenge this year. Iran's deputy energy minister says the last hydrological year has been the driest in half a century. Precipitation level hit 146mm during the period, down significantly from nearly 240mm average precipitation for each water year during the last 52 years.
The ongoing water scarcity in 220 cities across Iran is expected to fuel domestic conflict, secretary general of Iran Water Industry Federation, has said. He attributes the crisis to the government's "extremely weak" performance in water management and policy-making.
سطح ذخیره‌ی آبی سد شهید عباسپور خوزستان تا حد هشدار پایین آمده است. اگرچه خیلی از استانهای خشک در سالهای اخیر با مشکل کمبود آب مواجه بوده‌اند، به نظر می‌آید کمبود بارندگی امسال چالش بزرگتری را متوجه این مناطق ایران کند. معاون وزیر نیرو میگوید سال آبی گذشته خشک‌ترین سال در نیم قرن اخیر بوده است. به گفته‌ی او، سطح بارش در این دوره به 146 میلیمتر رسیده، که بسیار پایینتر از متوسط بارش 240 میلیمتری در 52 سال گذشته است. در این میان، به گفته‌ی دبیر کل فدراسیون صنعت آب ایران، «شرایط امروز موجبات نزاع‌های منطقه‌ای را در داخل کشور فراهم می‌کند. مسئله زاینده‌رود نمود بارز آن است. البته اینها ظاهر قضیه است.
به مرور جنگ و نزاع‌ها در شهرها و استان‌ها بیشتر خواهد شد و یک ابرچالش را در کشور شاهد خواهیم بود. متاسفانه اکنون در حدود ۲۲۰ شهر چالش آب داریم و حتی آب شرب هم با مشکل مواجه است. اما همچنان همه‌ی وعده‌های توسعه بر پایه‌ی آب است.» او حکمرانی آب در کشور را «به‌شدت ضعیف» توصیف کرده و درباره‌ی عملکرد وزارت نیرو توضیح میدهد: «اکنون تنها ماموریت وزارت نیرو توزیع آب شده است و چون این نگاه وجود دارد، این وزارتخانه به‌دنبال این است که از هر جای کشور آب تولید کند.»