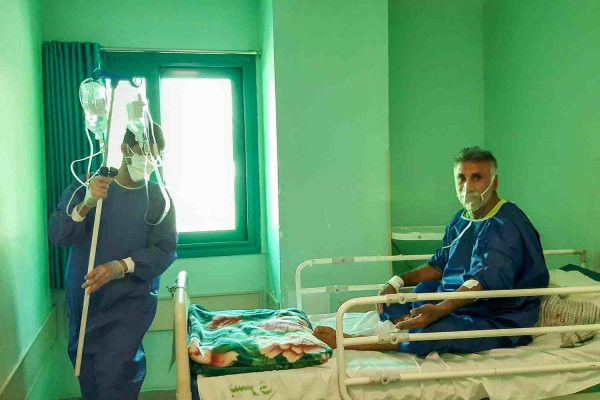 A COVID-19 patient hospitalized in Sistan and Baluchestan, Iran's second-largest province bordering Pakistan and Afghanistan — Iran is bracing for another wave of COVID-19 infections as the highly contagious Delta variant of the coronavirus is spreading through the country's southern and southeastern provinces. Sistan and Baluchestan is registering about 1,200 cases and 20 deaths a day, which roughly equals numbers registered for the whole of Pakistan, a country of more than 220 million.
The pandemic has so far killed close to 85,000 people in Iran, the worst-hit country in the Middle East. At least 3.23m cases have been registered in the country of more than 83 million people. This is amid a continuous lag in Iran's vaccination drive. Nearly 4.5 million people have so far received at least one dose of a vaccine against COVID-19, which equals roughly five percent of the total population. But repeated delays in importing vaccines have resulted in weeks-long gaps in vaccination efforts.
یک بیمار کووید-19 بستری شده در بیمارستانی در سیستان و بلوچستان — ایران در حالی در انتظار موج پنجم گسترش ویروس کرونا است که نوع دلتای این ویروس با سرایت سریع در استانهای جنوب و جنوب شرقی قربانی میگیرد. در سیستان و بلوچستان روزانه نزدیک به 1200 بیمار جدید و 20 مورد مرگ ناشی از این بیماری ثبت میشود. بر اساس گزارش الجزیره، این تعداد تقریبا برابر با آمار قربانیان کشور پاکستان با جمعیت 220 میلیون نفری است.
از تعداد 3.23 میلیون مورد ابتلا در ایران، کووید-19 تابحال 85000 نفر را به کام مرگ کشانده است. این تعداد کشته ایران را به دومین کشور آسیب‌دیده از این ویروس در خاورمیانه بدل میکند. این درحالیست که برنامه‌ی واکسیناسیون دولت به هیچ عنوان مطابق برنامه پیش نرفته است. بر اساس آمارهای رسمی، تابحال 4.5 میلیون نفر حداقل یک دُز واکسن کرونا را دریافت کرده‌اند، که حدودا پنج درصد جمعیت کشورمان را پوشش میدهد. ولی تاخیر مکرر در واردات واکسن جدید، منجر به فاصله‌ی چندهفته‌ای در واکسیناسیون شده‌ است.
Photo: Behrouz Shahraki / ISNA