Hostel in Tehran
See You in Iran
Affinity instead of Identity
See You in Iran Book
Order your book online and we will ship it to you all around the world.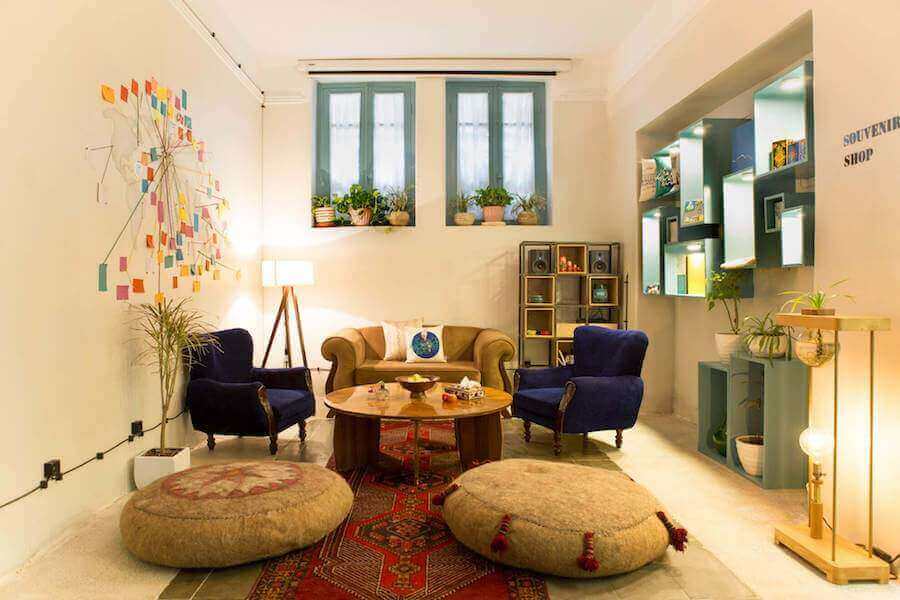 Our Hostel in Tehran
The See You in Iran Hostel, which was rated the "Top Choice Hostel in Tehran" by Lonely Planet, is the accommodation for cultural exchange and cultural events. Our hostel in Tehran features eight private rooms, two dorm rooms, an event-based cafe, a spacious outdoor garden and is run by a multilingual team.
Check Accommodation & More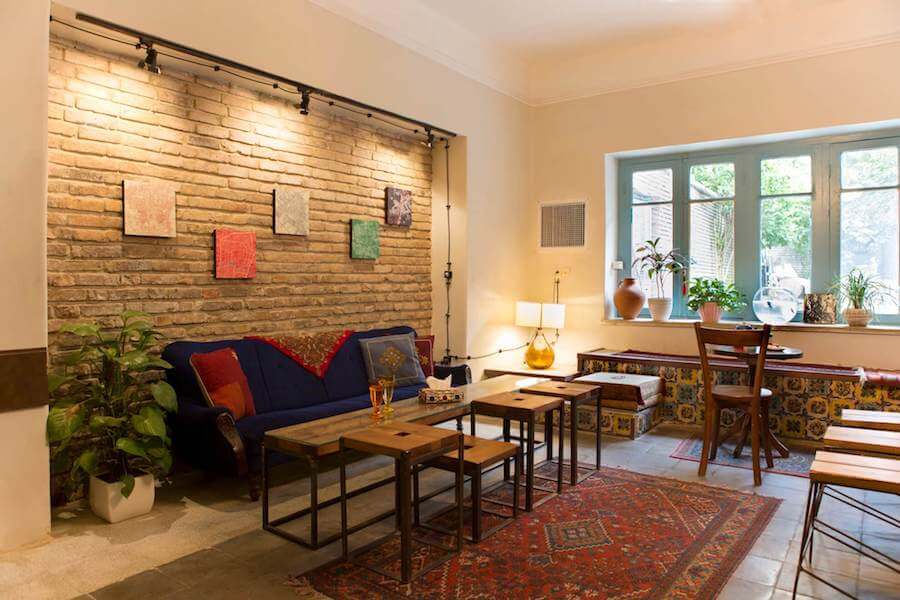 Kojeen Café - کافه کوژین
Kojeen cafe in Tehran is both a accommodation for travelers, a place for hosting public cultural events and a community for Iranians and foreigners to interact through information and experience-sharing. At our cafe guests can enjoy a variety of coffees and traditional Iranian beverages while...
See The Cafe & More
Hostel in Tehran
See You in Iran Tehran Hostel is in the Iranshahr neighborhood at the heart of Tehran's pulsing artistic center. The hostel's area includes the Iranian Artists' Forum which is home to numerous cultural events and gatherings, the Museum of Contemporary Art and numerous private art galleries. It neighbors political and intellectual attractions like the Former U.S. Embassy, the University of Tehran, and Enghelab Square's famous book bazaars. Located in the center of Tehran, the hostel is also 30 minutes away from most major historical sites, such as Golestan Palace, the Grand Bazaar, the National Museum of Iran, etc. Our hostel in Tehran provides travelers with a unique cultural experience. Refer to our "Contact Us" page for our address and transportation information.
Hostel in Tehran
Book Now
The hostel is temporarily closed.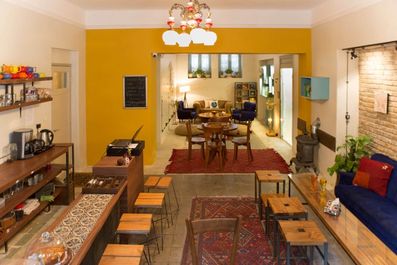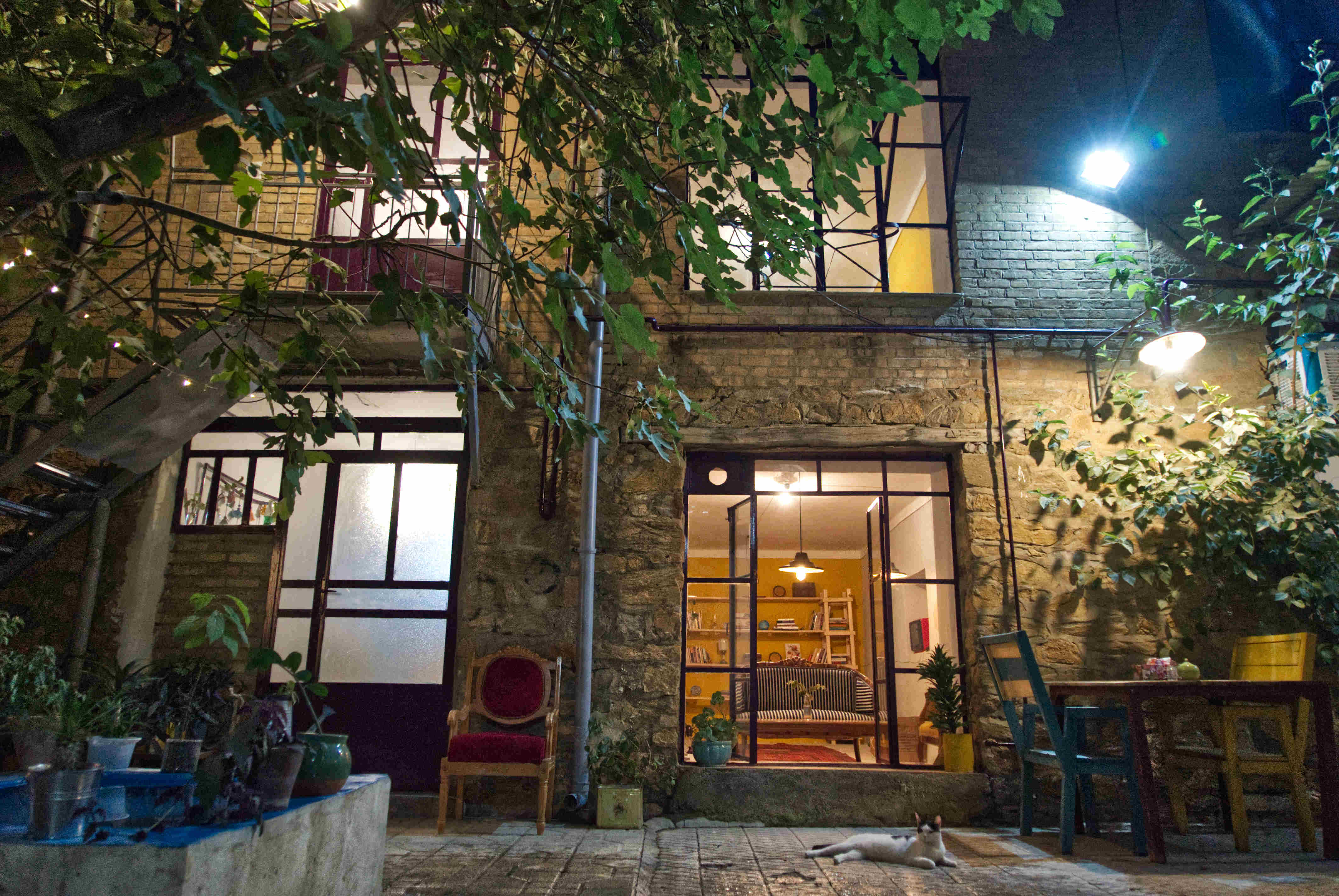 Hostel in Kurdistan
The See You in Kurdistan (SYK) project aims to provide a more nuanced understanding of the Kurdish population, culture, and history by drawing direct connections between the locals and visitors/non-locals. Within the centralized linkages of capitalism, where the dynamics of center and periphery do not allow human interconnections, the multi-layered aspects of the everyday life in Kurdistan is being concealed and rendered as secondary. Even in the tourism industry, most independent travelers in Iran – more than 90% – choose the 'classic route', which unsurprisingly passes from the center of Iran. This accumulation of tourists, knowledge, representation, capital, jobs, and infrastructure is paid at the cost of other people's marginalization from cultural encounters, social benefits, and economic advantages. See You in Kurdistan, hopes to facilitate socio-economic connections in the region through sustainable tourism as an instrument, and to bring Kurdistan back to domestic and international dialogue.
Hostel in Kurdistan
Book Now
Hostel in Kashan
Kashan,Isfahan province,  a city in the desert, is connected to Karkas Mountains from south and central deserts of Iran from north.
In a historical area of Kashan, just at the heart of the all-important visiting sites and astonishing buildings and monuments, Puppet Museum Hostel can be found. Kashan's unique "Puppet Museum Hostel" is a charming low-budget accommodation, in a beautiful historical house, with a unique collection of cultural traditions which includes a wide range of traditional puppets and toys and shows featuring them.
Hostel in Kashan
Book Now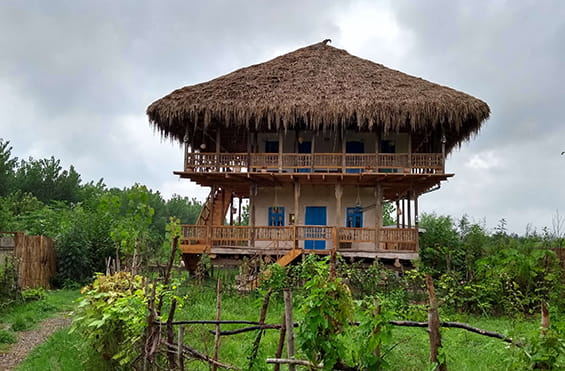 Hostel in Gilan
Lotka Ecolodge is located in a serene place, among the nature of the Hyrcanian Caspian Sea, which makes it a unique ecolodge to stay in Rasht, Gilan, Iran. Hyrcanian forests are the most ancient of all forests survived the ice age due to Caspian Sea's humidity. Going to Lotka, will give you the opportunity to get acquainted with the Gilaki culture; you can experience a rowboat trip from the private pier at the back of the ecolodge, shop local handicrafts made by rural women as souvenirs, and indulge in local cuisine (mostly cooked with organic ingredients). Sarkhoski, where Lotka is located, is a very green and quite village to spend time in with a lot to discover.
Hostel in Gilan
Book Now
Hostel in Kermanshah
Kermanshah is the capital of Kermanshah province which is the biggest city of the Iranian Kurdish region. It is developed in the 4th century AD under the patronage of Sassanian kings. Kermanshah is situated between two cold and warm regions enjoys a moderate and mountainous climate.. We chose Kermanshah for three reasons: first, it's the biggest city in the area so that getting there is very easy. Second, all other touristic cities around Kermanshah (Sanandaj, Paveh, Ilam, Khorramabad, Palangan) are less than 2-hour drive from here. So Kermanshah can be used as a hub in Kurdish region. Third, it is very close to Parvizkhan border to Iraqi Kurdistan for tourists who go to Iraqi Kurdistan and vice versa.
Hostel in Kermanshah
Book Now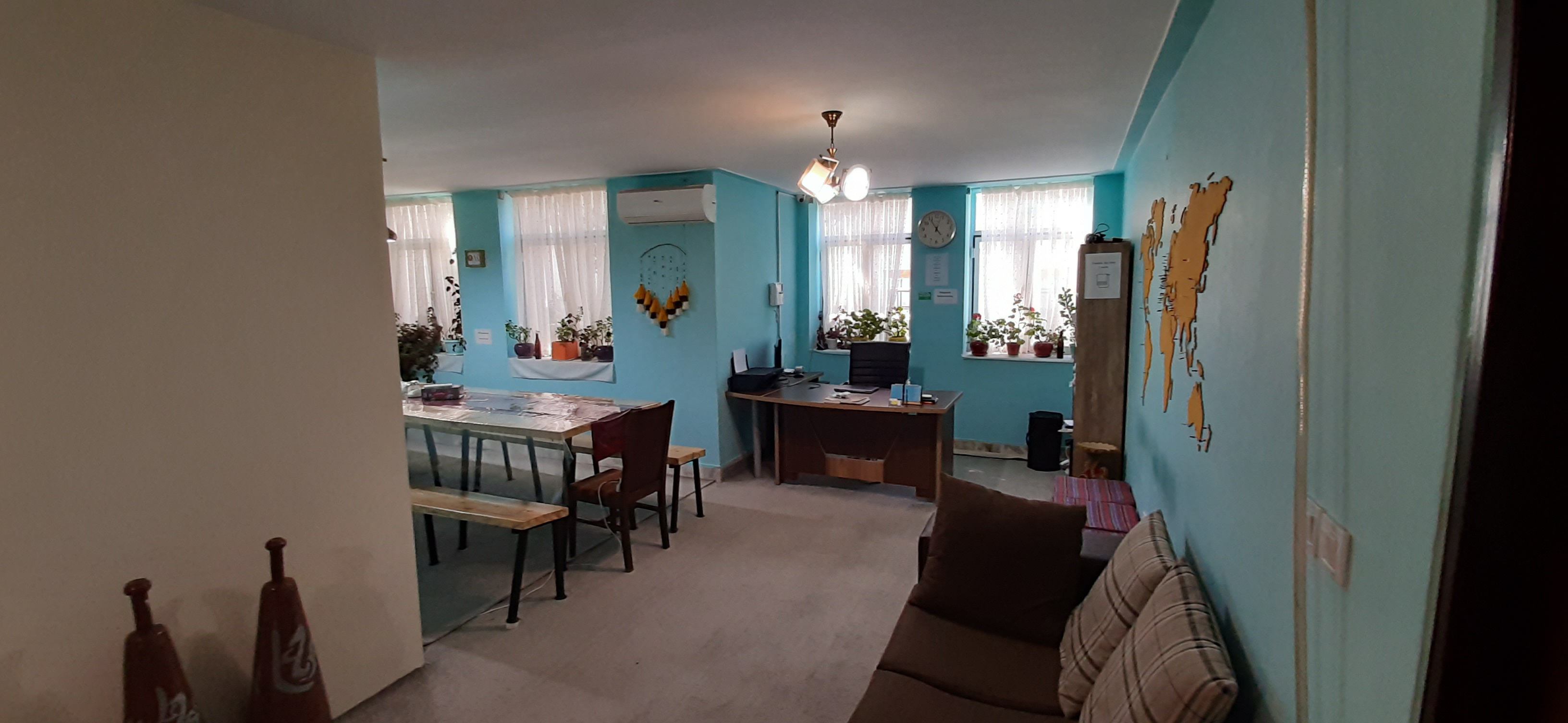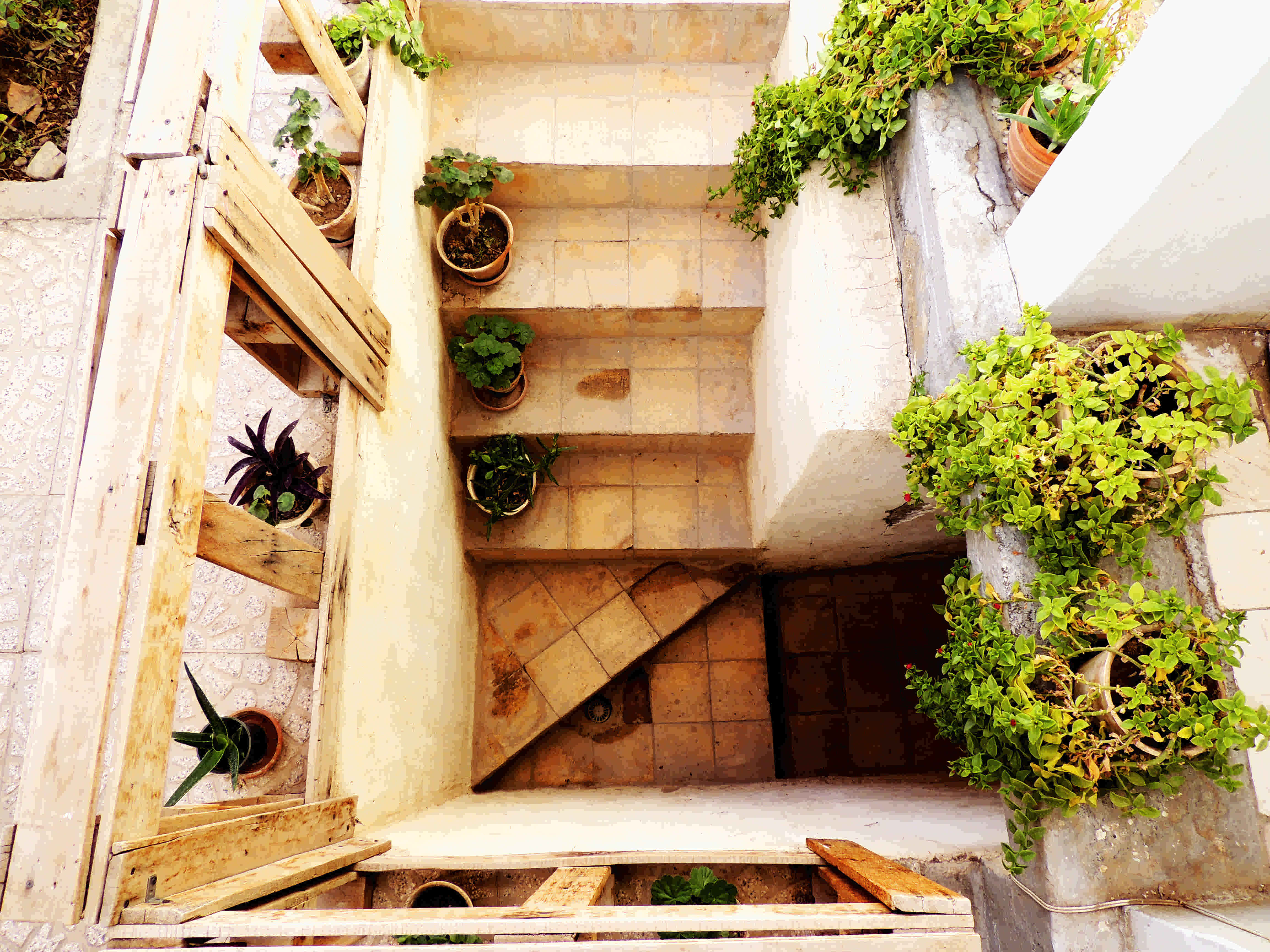 Hostel in Isfahan
Howzak Boutique Hostel in Isfahan, Iran is a small and cosy house built more than 90 years ago in the historic neighborhood of Isfahan, a short distance away from the UNESCO-listed site Masjed-e Jame, the city's magnificent Friday mosque. Before opening its doors to tourists and city visitors, Howzak House, had been privately owned by two generations of the Khanoum family: Goli Khanoum, who was the neighborhood's girls' teacher, and Malek Khanoum, who had lived with her five children in this house. Howzak House dates back to the late Qajar period (1796–1925) and it is clear from its simple architectural style and ornaments, that it is not an aristocratic but a working-class residence. Yet, Howzak House exudes the charm and magic of traditional Iranian architecture, meaning that this perfectly symmetric building on the inside was built on a very asymmetrical land. Most importantly, however, it has over many decades preserved the cordial spirit of a family house.
Hostel in Isfahan
Book Now
"You should come here for the atmosphere and to meet the other international backpackers and the very open minded and interesting young people who run the cultural house. The accommodation's Rooms have an international boho-style which feels just like home. If you are sensitive to light you should bring a sleeping mask etc, as the bedrooms are not very dark. Breakfast is tasty and comfy and you will get help with anything you need as well as introduction to iranian culture, rules and habits. I will definitely return to See You in Iran hostel and cultural house!"

Meran

homey place run by wonderful people
"We stayed with my wife at this incredibly comfortable hostel for 1 night in december' 2018!
We were really surprised by the hospitality of these guys and the accommodation was fantastic.
We came late at night and they were waiting for us.
Also there is very delicious coffee with local sweets in the dinning room served by the cafe!"

Eugene Beletskiy

Cosy and very stylish
"I have only the best to tell about this amazing hostel and their admirable cultural house project.
The staff is super helpful and extremely nice, even though we have stayed there for only one night we really felt the atmosphere and a great sense of community!
I highly recommend this hostel to anyone who wants to stay in a special accommodation and learn about the true Iranian culture and current situation.
I wish all the best to all the good people in this hostel 🙂"

Matea F

A special and inspirational place
"At the start of my Iran trip I stayed in the See you in Iran hostel for 2 days by myself. I enjoyed the hostel and the Kojeen cafe a lot, especially because of the people working at See You in Iran! Everyone is very friendly and I learned a lot from many discussions we had about different aspects of this unique country and its culture."

Rachel

Best place to start your Iran trip
"I've been to See You in Iran hostel and cultural house twice and if I happen to be in Tehran again will definitely go back to it. The place is great and the stuff even better. I've got lots of info about buses and places to visit and they helped me booking my next accommodation out of Tehran. Warmly recommended."

Eugenio_G694

I've been there twice and probably will go back again
"Perfect place to start in your Iran trip. Lounge room is very comfortable and sociable with many outside locals/foreigners coming in to hang out. They host cultural events regularly. Tehran becomes much better staying here because of the hosts (particularly Amin and Mustafa), they will recommend you good places to eat and visit. They are also there to help you out with anything like a SIM card or debit card Will be coming back during my trip!"

Avid Traveller

Tehran becomes much better because of the hosts
"See you in Iran is so much more than an accommodation. While at first overwhelmed by the amount of people working there, you soon come to realize you jumped into a community of people that not only try to make your stay at the hostel your best stay, but for everyone that comes to Iran, in or outside the hostel and Tehran. Everyone was friendly and interested and you are able to have a good laugh with the young and energetic people that work here! Lot of other travelers too and good breakfast at the Kojeen cafe."

Globetrotter

Everyone was friendly and interested
More Than
Community Members (Jul 2018)
Join Online Community
Follow our social networks and join the foremost community for connecting future and former travelers to Iran with locals.
Contact Us